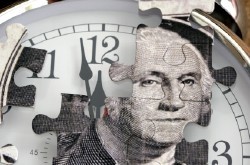 When you owe a large sum of money to the IRS, the government can claim a portion of your paycheck to cover your debt. Unfortunately, wage garnishment can lead to serious financial hardship, leaving you unable to pay your rent or support your family. If you need to stop wage garnishment in order to pay your expenses, turn to Taxation Solutions, Inc. We're Cincinnati's tax garnishment specialists, bringing together a high level of experience with a commitment to meeting our clients' needs. Call or e-mail us today to schedule your appointment with us!
Stop Garnishment Fast
Wage garnishment can leave your financial life in shambles. If you need to stop wage garnishment as soon as possible, Taxation Solutions, Inc. is the company to call. We know how to stop wage garnishment in a hurry, and we offer emergency services to Cincinnati-area residents. We'll work efficiently to negotiate an alternative tax settlement, so you can enjoy full use of your paycheck once more.
We're a licensed and insured tax help firm with 40 years of experience among our staff. We're also proud to be affiliated with the American Society of Tax Problem Solvers. We put quality workmanship and professional customer service first, no matter what tax problems bring you to our door. Ready to make IRS wage garnishment a distant memory? Contact us now.